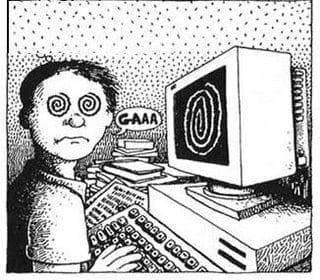 Do you need help for Writer's Block?
Writer's block is inevitable; it can happen at any point and, when it does, it's a pretty serious problem.
There comes a time in every writer's life when the creativity, desire and motivation to produce an amazing piece of literature just stops dead. You know you need to keep on writing: you have a deadline to meet, your readers are waiting to read your next installment or you know Google will be shortly de-ranking your site for infrequent content. But sitting there at your desk surrounded by empty coffee cups, a few scribbled notes and a snoring dog (that may just be me), you feel about as inspired as a soggy dishrag—and potentially just as worn out and smelly.
There's nothing coming to your mind. You write a sentence, delete it, and then write it again. You delete it again. You're well and truly stuck. Yet somehow you have to come up with something—the old "dog ate my homework" excuse just won't cut it here—but how?
(
Read more
Collapse
)
[Infographic provided by
Vappingo proofreading services
]
NOM DE PLUME
nomm de ploom
(French)
'pen-name', 'writer's assumed name':
…'Belle de Jour', the nom de plume of a working girl whose blog has just
landed her a five-figure book deal.
(Independent on Sunday)
Oddly, nom de plume does not actually appear in French and it
tends not to be used about serious writers – writers, that is, such as Eric
Blair, who took the name George Orwell, or Mary Ann Evans, who
wrote under the male pseudonym of George Eliot. There's something
slightly frivolous about a nom de plume. It therefore seems appropriate
in the Independent example above to describe the assumed identity
of the web woman (who might be a man) who might be a call-girl
(or not).
Did you know the following genre fiction authors have a Nom De Plume?
[
Read more...
]
Stephen King writes Horror. He also writes as Richard Bachman, Eleanor Druse, Steve King, and John Swithen.
Jack Higgins (his pseudonym) writes Mystery. He also writes as Martin Fallon, James Graham, and Hugh Marlowe.
Barbara Michaels (her pseudonym) writes gothic and supernatural Thrillers. She also writes as Elizabeth Peters.
Alistair MacLean writes Mystery. He also writes as Ian Stuart.
Eboni Snoe (her pseudonym) writes African-American Romance.
Is choosing a pen name right for you?
It's important to know that writing under a pseudonym is a personal decision. Here are 7 reasons for doing so.
Your real name is difficult to pronounce or spell.
Your last name is near the bottom of the alphabet.
Your name is too common. (Hmm. There are a lot of Tracy Campbell's).
You might write in different genres. If you are a woman and you want to reach a male audience, you might want to consider using a masculine name or just initials. Let's take Romance novelist Nora Roberts, which is her real name, also writes futuristic suspense under the pen name, J.D. Robb. (I've thought of using T.C. Mac).
You might want to keep aggressive fans at bay. (I should be so lucky).
Your sales weren't great with your first book and you want to start fresh. (Hopefully, I won't have that problem).
Before you decide on a Nom De Plume, get a second or a third opinion because the name you choose is your brand and it could haunt you the rest of your life.
from:
http://tracycampbellwriter.files.wordpress.com/
Read the sentences below carefully and choose the correct word. Remember the differences between the words.
Coarse
means rude or rough (adj.)
Course
is "a progression through a development or a period or a series of acts or events" or conduct (n.) or to issue from (v.)
Test
иллюстрация:
http://www.anotherangler.net/images/lbird.jpg